So I am sure that many of you have noticed a huge lack in activity coming from this blog over the last week. I apologize for not getting anyone their daily fix, I'm working on it. Ready for the excuses? Here they come.
Last Friday I made the plunge and switched to the Dvorak keyboard layout. It has been an initial struggle but I'm making a lot of progress and my prediction is that I'll be back to normal by two weeks. I'm actually up to 40-50 wpm average already. Not bad, considering it's a new keyboard layout.
The quick and dirty way to switch your keyboard layout are outlined below. I suggest everyone check out the above link to see what the Dvorak is all about. My feeling is that it's very much worth it!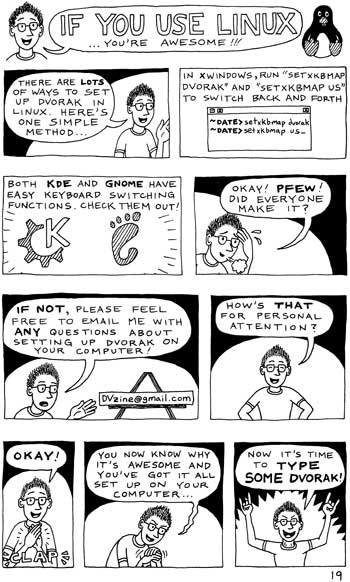 In gnome you'll want to find the following:
System > Preferences > Keyboard
afterwards you'll want to select "Add", find the US and add the Dvorak layout. Note: this will only change settings once you're logged in. Using the instructions in the comic will allow you to set the global settings.
I'm sorry for the short post today but it's still a bit slow going on typing and I don't know the instructions for KDE.
If you switch I do have to say you're a brave soul & it definitely bumps up your nerd-cred.